I never deleted my journal. I will probably check in still. I just won't be that active.


I will really miss the communities I've been in here because I have a lot of fun reading and participating in them but...I don't like how this site is turning out. It's very sad.
Due to the recent incidents with LJ changing things around here, not necessarily for the better and being sneaky with it as well...I will be getting rid of my account and no longer checking in here. I'll close Friday. I'm transferring over to InsaneJournal. I also have Myspace if anyone wants to add me there.
Current Mood:

disappointed


BEIJING - A father tied his 10-year-old daughter's hands and feet and watched her swim in a chilly southern China river for three hours in a task he said Thursday would help the girl achieve her dream of swimming across the English Channel

He didn't force her to do it, she wanted it.

"Her swimming skills are perfect and she insisted on doing this," Huang Daosheng said in a telephone interview.

However who's encouraging it, and who gave her the idea in the first place?

And this family isn't the only one going to the extreme...

This past summer, 8-year-old Zhuang Huimin ran 2,212 miles from her home on the southern island province of Hainan to Beijing in 55 days, her father trailing behind her on a motor scooter. The run drew criticism from some media commentators as excessive for a young child.

EIGHT YEARS OLD! The Dad didn't even run it with her. At least (and I'm not condoning the first story at all) the Dad in the first story was swimming along side his 10 year old-tied-up daughter (albeit untied).

This is just bizarre and unnecessary.
http://www.msnbc.msn.com/id/21126016/?GT1=10450


Also another blessing was that Greg never completed his application for a California license, if he had during all this and CA had put the application on hold then that would have followed him everywhere--every time he would apply for a new license he would have to record the application being on hold and the reasons for it being so.

Also the CO said that he is looking for a place for us in West Virginia right now. It's not definite, but that's where he would like us.

So Greg is immensely relieved, we both are. We're so grateful to God for bringing us through this and for guiding in everything!
Greg talked to his CO again this morning. The committee came to the conclusion that Greg's termination from the clinic was simply about personality conflicts and the clinic going in a different direction (aka they just wanted to get rid of him because they got what they needed from him and didn't want him in their business anymore). Greg is cleared of all of this, they have found there is no reason for disciplinary action. Praise the Lord! This will not follow him his whole career.
Current Mood:

ecstatic


I about freaked out when I thought Jordin was going home! Idol faked us out, no one went home tonight. Good. I hope Chris goes home next week. He really cannot sing good at this point .

Over the weekend I kind of had a break down at church at the garden of prayer alter call. When I left the sanctuary to gather myself together Leanne stopped me and hugged me and asked me what was going on. I told her, she talked with me, we prayed together. Then she invited Greg and I to go to the Zoo with her and her family on Sunday. We thought that'd be a good idea, to get out of the house, spend a day doing something and get our minds off of this situation.
Well the Zoo ended up being way to crowded for any amount of enjoyment if it's your first trip. Guess what, Sunday was Earth Day. HMM that might have been a good thing to figure out before we went I guess. Well we ended up going to Old Town and walking around through the shops there, then we went out to dinner with them and walked off dinner by the docks.

We also talked with our pastor on Sabbath afternoon and asked for special prayer from the church. I think the church family will end up knowing the details eventually. I know Greg is just dreading it though because he feels like all the doctors in the church will look down on him or think less of him because of this. I don't think they will, because there are very intelligent caring wonderful doctors in the church. And I don't believe them to be like that. I know Greg is just imagining the worst possible scenario.

Last night Greg and I went to the Fashion Valley Mall and walked around. That's a beautiful out door mall. There is just no other way to describe it. Beautiful. Then we went and ate at Ihop.

Today Sasha wasn't feeling well. She threw up and had diarrhea. She also was lethargic. We took her to the vet and they took Xrays. It seems she has some bones in her stomach that are causing problems. She now has to stay there overnight. We'll pick her up tomorrow. The vet bill = OUCH! I'm not going to think about it.

Tomorrow morning I need to go running because I haven't been in a few days. I need to stay in shape.
Just got done watching American Idol. Many of my favorite artists sang tonight. Josh Groban, Celine Dion, Kelly Clarkson, Carrie Underwood! Very good show. It was heartwarming to me.
Current Mood:

sleepy

stands up under temptation, for when he has stood the test and been
approved, he will receive [the victor's] crown of life which God has
promised to those who love Him.
James 1:12 (Amplified Bible)


"Therefore, my dear brothers, stand firm. Let nothing move you.
Always give yourselves fully to the work of the Lord, because you
know that your labor in the Lord is not in vain."
(1 Corinthians 15:58)
Blessed (happy, to be envied) is the man who is patient under trial and
Current Mood:

good

I didn't hide it very well. He wanted to know what's wrong, I told him, I still felt...really down...and he didn't know what to do.

Then after about a half hour he just pulled me down in our loveseat with him and cuddled me on his lap. He didn't say anything. Just held me. Stroked my back. After 2 minutes I felt all my worries and frustrations just lift off my shoulders and disappeared.

Ooooo I just love him so much. 2 minutes in his arms and it knocks the badness away.

Just thought I'd share.

xposted to loveisthebest
A few nights ago I was in a funk. I was bummed about school and an argument I had with my Mom. When Greg got home from work I tried to snap out of it a bit because I know he's been very stressed at work.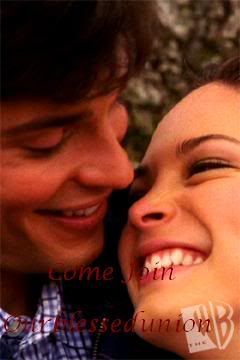 </a>